Since World War II, Jeep has been an iconic part of driving cultures around the world. The brand's slogan of "Go Anywhere. Do Anything." reveals an intrinsic truth about these vehicles. They're designed not only to help people traverse rough terrain, they're made to help drivers and their passengers explore the world without being held back during their journeys. They represent freedom without restrictions.
Pros and Cons to Bed Racks
Everyone uses their Gladiator differently, and a bed rack is not for everyone. I opted out on this one, but I did put a lot of thought into it. Below is my personal list of pros and cons.
Bed Rack Pros:
They give you secure mounting points
Needed for overlanding
Added storage space
Some people like the way they look
Some work with tonneau covers
Some are removable
RTT (Roof Top Tent) racks can be fun
You get to hear "nice rack" occasionally
Bed Rack Cons:
Difficult / impossible to put appliances and large items in the bed
Bulky and in the way
Some people don't like the way they look
Items can be easily stolen
Does Mopar Sell Bed Racks?
Aftermarket options are the only way to go with this brand when seeking bed racks. Whether you need to have the ability to transport a lot of items or heavy basic emergency and survival necessities or repair tools, a canopy, construction or moving materials, fishing or mountain-climbing gear, one or more kayaks or a rooftop tent, an aftermarket bolt-on rack can make it possible for you to "Go Anywhere. Do Anything."
This guide offers brief insights into the available options at the time of publication. It starts with our lowest-priced product recommendations* and ends with the most expensive:
Quality Gladiator Racks Priced Between $400 and $1,000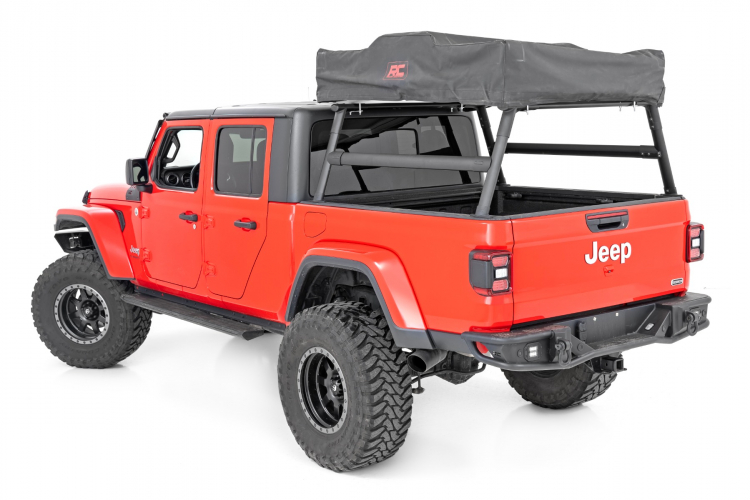 Rough Country Aluminum | Jeep Gladiator JT 4WD (2020-2023) Rack
The Aluminum | Jeep Gladiator JT 4WD (2020-2023) Rack by Rough Country is the lowest-priced option in this guide. That said, it's certainly not a cheap product. Made of lightweight yet strong, powder-coated aluminum with molded caps, it's durable enough to handle 750 pounds of static or 450 pounds of dynamic cargo. It helps you maintain rear visibility while hauling a wide array of items, such as construction tools or materials, bikes and camping gear, loading ladders, small fishing boats and kayaks, a rooftop tent, and so much more. The design is a completely modular system that you can upgrade with additional crossbars. The only downside is that it's incompatible with Rough Country's hard-top tent.
Price: $499.95
Yakima Outpost HD (Towers Only) Mid-Height Heavy Duty Truck Bed Rack
This 13-inch mid-height Yakima bed rack with four towers, designed for use with separate Yakima HD Bar Crossbars (60 inches, 68 inches and 78 inches), is perfect for camping, fishing, hiking, kayaking, surfing, snowboarding and other trips that require a durable rack or an outdoor tent. It attaches easily to the Gladiator with Yakima's QuickChange and BedGrip systems, with or without additional kits for tonneau covers and tracked beds. It carries heavy cargo up to 300 pounds (off-road) and 500 pounds (on-road) with ease. It can also handle 800 static pounds. Campers can improve safety and security with a rooftop tent well above ground.
Price: $750.00
ATP Gladiator (JT) Short Series Adventure Bed Rack
Adventure Trail Products closes out this section with a light-textured black, powder-coated bed rack designed for off-road enthusiasts looking for adventure while exploring the world's natural beauty or enjoying competitive sports, entertainment venues and other outdoor events. As with the other rack options in this category, the ATP rack has a higher-than-expected cargo capacity. It can handle most cargo-hauling situations up to 500 pounds (on-road and careful off-roading), and even rooftop tents. It is made with CNC laser-cut 1/8-inch and 3/16-inch durable steel and aluminum crossbars that feature a universal, easy-bolt mounting system that works with bed rails or the Trail Rail Cargo System.
Price: $899.95
Pricier Racks with Perks Between $1,000 and $1,500
EVO Manufacturing JT Gladiator Bed Rack for JT (Bare Metal)
This EVO Bed Rack is available in a half-height (15 inches from the bed rail) design. A slightly pricier full-height option (22.5 inches from the bed rail) is also available. You don't need to drill to assemble or install either version. EVO offers a half-cab, bare aluminum roof rack that works well in combination with the product and many accessory mounts. The bare steel allows for custom mods that won't ruin a finish, which makes it a great option for construction and other outdoor workers and serious off-roaders or sports enthusiasts who require a base rack that they can alter to their specific custom needs.
Price: $1,081.88 (Full Height $1,127.50).
DeeZee Invis-A-Rack Cargo Management System
The Invis-A-Rack Cargo Management System by DeeZee, Inc. might seem like a waste of money at first glance. It looks like a somewhat narrow frame rather than most of the more complex frame and crossbar options covered so far. Yet this rack hides some amazing secrets. Although it's made of textured black, powder-coated aluminum, it can handle up to 500 pounds of cargo, including kayaks and surfboards. It doesn't require special installation. More importantly, it's fuel-efficient and extremely portable. It's a ladder-style rack that folds down into the casings of your Gladiator's bed rails for storage when not in use. You can unfold it again in seconds.
Price: $1,119.95
Go Rhino XRS Overland Xtreme Rack
The XRS Overland Xtreme Rack is one of Go Rhino's better bed racks. It's compatible with many types of trucks, including the Jeep Gladiator. It features Go Rhino's proprietary 4-Core crossbar technology with an extruded steel system and sturdy aluminum supports with accessory slots. It allows for a wide range of accessory options with simple 1/4-inch by 20 hex bolts. It's also compatible with an accessory fold-down gear table/plate, and rooftop tent brackets sold by the manufacturer. It mounts effortlessly to the truck, no matter the rail system.
Price: 1,287.43
High-End, High-Quality Gladiator Racks Above $1,500
Wilco Offroad ADV Bed Rack – Jeep Gladiator ADVLP-JT / ADVSL-JT
The lowest-priced of the high-end bed racks, the ADV Bed Rack for Jeep Gladiator by Wilco Offroad, features two profile height options that help a Gladiator owner choose the best option for their cargo needs. You can enjoy a lower center of gravity and less resistance from the wind for center-mounted gear with the 14-inch low-profile ADVLP-JT option. You can also go to the next level to optimize every bit of the space of the truck's bed and storage capabilities with the 21-inch-tall ADVSL-JT option. Each option is designed with crossbars made of a mix of lightweight aluminum and durable, heavier steel.
This bed rack provides an excellent, high-end, low-cost solution for camping and trail gear, including bikes and tents. JT owners can also select between a clamping kit for models that don't feature the Trail Rail Cargo System and a cargo rail-mounting kit for trucks that do.
Price: $1,524.82
ZROADZ 2019-2022 Jeep Gladiator Access Overland Racks
ZROADZ offers several amazing Overland Rack products. The textured black, three-step powder-coated 2019-2022 Jeep Gladiator Access Overland Racks at this price point offer three lifting side gates and the ability to support the weight of approximately 1,500 pounds of static cargo (800 pounds on-road and 400 pounds off-road). One is mountable on the optional factory Trail Rail Cargo System, and the other doesn't fit it.
Both racks are designed with made-in-the-USA 10-gauge steel legs and transverse cross bars, a 304 stainless steel pivot collar, and 7-gauge door assemblies and lateral crossbars. They feature TIG welded construction and mounted accessory plates with multiple slots, aluminum secondary supports, a bolt-on clamping installation system and a complete 4-pod LED kit.
Price: $2,194.50
ADD Offroad C978832000103 ADD-Lander Overland Rack for 20-23 Jeep Gladiator JT
This Overland Rack by Addictive Desert Designs is a top-of-the-line choice for heavy cargo and even a tent. It's a top pick because it's an incredibly strong and sturdy bed rack that features "universal-style" cross members and rails with multiple slotted holes. It doesn't require complex installation work and easily allows the attachment of various accessories. It's a made-in-the-USA rack built with thick, durable steel in the forms of plates and tubing combined with black powder-coat finishes.
Although ADD displays a picture of it on their "2020-2023 Jeep Gladiator JT Bumpers & Accessories" page above the Chase Racks options, it's not currently available for direct purchase. Instead, it's offered at the lowest possible rate by aftermarket dealers, such as Quadratec and Offroad Alliance.
Price: $2,424.02
2020-2022 Jeep Gladiator JT Overland Rack by Fab Fours
The Fab Fours Overland Rack is one of the highest-quality cargo and hauling racks made in the USA for JT owners. It's designed with a frame, cross members and hardware made of 12-gauge steel sealed with a two-stage, black, powder-coated finish for outstanding durability and strength. It offers multiple mounting and tie-down points with 10 integrated (3×3 pod) mounts.
It also features an integrated roof-access step. With the two included cross members, it can hold up to 500 pounds. It's expandable to create a solid floor that can handle more with additional ones. Lights aren't included. The expansion is also not compatible with Mojave Trim.
Price: $2,440.00
Making a Jeep Gladiator Bed Rack Investment: Important Considerations
This is by no means an exhaustive list of all available Jeep Gladiator bed racks, but it's a fine starting point if you're ready to research or invest.
*It's important to note that some of the racks outlined in this guide only fit certain versions of the Gladiator. As already mentioned, you might need special rail-related kits and parts for some rack installations. Some racks are incompatible with specific trims. The racks usually don't work with any type of standard bed cover. We always recommend checking with a Jeep dealer and the rack manufacturer to confirm compatibility.
Some of the prices we outline include discounts offered by manufacturers at the time of publication. Since many aftermarket dealers have arrangements with manufacturers that can lower prices, we recommend shopping around before making a purchase. Additionally, keep in mind that the prices are usually before taxes and any shipping costs. If you need the manufacturer or a dealer to ship long distances, the prices can increase by several hundred dollars.