Ever since the Jeep Gladiator was relaunched in 2018, fans have campaigned to add a V8-powered model to the lineup. The arrival of the Wrangler 392 in late 2020 only added to the buzz. So will we see a Gladiator 392 release in 2024? Read on for our predictions about what's next.
What's So Special About the Jeep Gladiator?
Out of all the Jeeps available today, the Gladiator could be the most versatile. The four-door, four-wheel-drive Gladiator combines the best features of pickup trucks and sport-utility vehicles in one stylish, gregarious package. It's at its best off-road when the doors are off and you're out in the open, scaling new terrain.
The Gladiator's V6 Engines Offer Plenty of Power
Whether you choose an automatic or a six-speed manual transmission, you'll always be ready for adventure. When the Jeep Gladiator went on sale in 2019, it featured a 3.6-liter Pentastar V6 gasoline engine that provided 285 horsepower at 6400 rpm. In 2020, Jeep added a 3.0-liter diesel V6 engine with 260 horsepower at 3600 rpm as a capable, higher-torque option. In the real world, the Gladiator's overall handling and towing ability depend on its features and modifications, including trim options, axle ratio, transmission, and tires. Although the Pentastar V6 has a higher maximum towing capacity at 7,650 pounds, many drivers consider the quieter, more agile, and more fuel-efficient EcoDiesel V6 engine to be an upgrade. Since the Gladiator is primarily designed for off-road recreation, the EcoDiesel's respectable maximum towing capacity of 6,500 pounds hardly compromises the truck's total performance.
Let's Talk About the Wrangler 392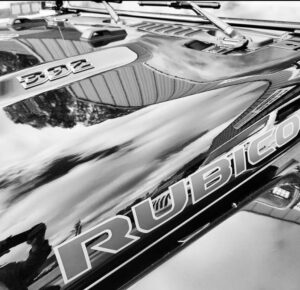 The Gladiator is often compared to its closest relative, the four-door Jeep Wrangler. Given their similar designs, fitting a Gladiator with a V8 engine should be straightforward; after all, gearheads have been putting eight-cylinder engines in Jeeps for years. There's a huge demand on the aftermarket for loud, powerful custom Wranglers that satisfy a craving for thrills, so Jeep released one of their own. The Wrangler 392 quickly gained a reputation for being ridiculous in the best possible way. It's a Jeep that must be experienced to be believed. As Car and Driver notes, "The 392 isn't about making sense. It's about making noise and stomping Broncos, not necessarily in that order. It's 'hold my beer' with an eye-level hood scoop." In other words, the Wrangler 392 is meant to make you grin from ear to ear from sheer exhilaration when you're driving up the mountainside.
Enthusiasts love the power of the Wrangler Rubicon 392, which currently boasts a 6.4-liter V8 SRT HEMI MDS engine with an 8-speed automatic 8HP75 transmission. With 470 horsepower at 6000 rpm and standard 33-inch all-terrain tires on 17-inch wheels, the Rubicon 392 can reach 60 mph in 4.5 seconds on the road. It's only natural to think that weekend warriors everywhere will be taking this Jeep off-grid for some serious fun.
We can only imagine that a Gladiator with the same V8 engine would be a beast, given that the current model is already stronger, longer, and heavier than its cousin. Autoevolution speculates that a Gladiator Rubicon 392 would include an 8-speed automatic transmission, 33-inch tires, Dana 44 heavy-duty axles, Fox monotube shocks, and dual-mode active exhaust. Impact-absorbing metal rock rails behind the rear tires and enhanced traction control on sand and dirt should maximize off-road maneuverability.
What Does Jeep Have to Say?
Even though the Gladiator's fanbase is vocal and willing to spend, it may not be a large enough niche audience to push Jeep to release a V8 version any time soon. In a conversation with Muscle Cars and Trucks, Senior Brand Manager Brandon Grimus noted that Jeep recognized the demand for a high-powered truck and cited the year-long waiting lists for custom builds on the aftermarket. Jeep is definitely listening to its customers, but it's also keen to strategically allocate its resources. During a 2022 interview with Motor Authority at the New York Auto Show, Jim Morrison, Head of Jeep, showed less enthusiasm for a supercharged update, noting that the company sells nearly three times as many Wranglers as Gladiators.
Even if the Gladiator 392 does hit the market, consumers can expect to pay at least a $30,000 premium over the Pentastar V6 engine. When you consider fluctuating gas prices, inflation, and the overall movement toward electric vehicles, releasing a V8 Gladiator seems less likely to happen any time soon.
The Future is Electric, But Fans Want Power
Given their commitment to electrifying their entire lineup by 2025, Jeep may be likely to prioritize the 4xe hybrid, which was announced in 2021 and is scheduled to arrive in 2024. The current 4xe delivers 375 horsepower with a turbocharged four-cylinder engine, two electric motors, and a TorqueFlite eight-speed automatic gearbox. A redesigned update could deliver even more power.
Still, there's hope for the faithful. If a Gladiator 392 is on the way, we would likely see it at the 2023 Moab Easter Jeep Safari, a 9-day event opening April 1. Hosted by the Red Rock 4-Wheelers club, this is where Jeep enthusiasts show off their mods and go off-road for trail rides, day trips, and desert racing. It's also the perfect opportunity for Jeep to get first-hand customer feedback so they can integrate the best of the concept features into the next production line. Last spring, Jeep brought 10 concepts to the Utah event, ready to push limits and play hard. If we see a V8 Gladiator at the Moab Easter Safari next April, there's a good chance the concept will move forward.
On the other hand, things have been quiet for a while. No significant news for the Gladiator has been released, although many people believe an updated Gladiator will follow the Wrangler's mid-cycle refresh. We're waiting for updates, but Jeep has been tight-lipped. When it comes to news about a Gladiator 392 release, only time will tell.